Become an IIFL Franchise Owner. Here is what you need to know today.
Become an IIFL Franchise Owner. Here is what you need to know today. Are you looking for ideas to set up your business? Have you considered becoming a franchise owner? Today, there are several options you can look for and decide. If you are good with numbers and love interacting with people, becoming a franchise partner for a stockbroking firm is the best option.
Becoming a franchisee with a well-known brand in the stockbroking industry offers you all the benefits you seek right from the beginning. Whether it is brand recall, fabulous fiscal products, a sizeable network, or the ease of doing business, you gain access to a lot.
Do you find that interesting?
We are talking about India Infoline Franchise. Introduced in 2003, IIFL Partnership models quickly became popular amongst the business class and promising entrepreneurs eager about trading in the stock markets. This franchise model will help you develop your business, increase your client asset collection with several financial products that IIFL offers.
In this article, we have shared a complete review of an IIFL franchisee. We have gathered the features, plusses, and the process of becoming a franchisee partner in one article for you. Read on to know more.
Let us understand the stockbroking firm India Infoline before we deep dive into what the franchise offers.
India Infoline Stockbroking
Founded in 1995, India Infoline Securities is a full-service prominent stockbroking firm with services like loans, mortgage, brokerage, and more. This stockbroking firm has been an inventive financial services provider since it began. It is a depository partner of CDSL and NSDL and registered with the Securities Board (SEBI) in India.
India Infoline's Business Partnership Models has been growing steadily since it introduced in 2003. The company has asset management, advisory products, and a credit line as well. Whether you want to deal in currencies, commodities, equity, mutual funds, derivatives, IPO's or NCDs, you will find them at IIFL. When you consider the financial bouquet of products and services IIFL has, becoming a franchise partner is a great option.
IIFL has more than 5000 franchise partners, 4 million consumers with a presence in 900 cities and a growing global footprint. It also has branches in Dubai, Singapore, Hong Kong, Mauritius, London, New York, and Geneva. India Infoline won the prestigious Best Broker with Global Presence award at the BSE IPF. IIFL products are available on the Bombay Stock Exchange, National Stock Exchange, the Multi Commodity Exchange, and the National Commodity & Derivatives Exchange Limited (NCDEX).
We hope you now know a little more about IIFL. Let us look at the various partnership models IIFL offers.
IIFL Sub-Broker Models
IIFL Partnership or Sub-broker Models are advanced trading models in the stock market that change stock trading every day. India Infoline has several franchises to choose from based on your requirements. You can be a marketing associate, a franchisee partner, an employee to entrepreneur, or a Remissier.
Every sub-broker model has several elements and services that will help your business and client base grow while servicing diverse customers. The partnering process is simple, but each model has its fitness criteria and benefits a partner can get.
Let us know more about the appropriate criteria for each type and understand who can partner with IIFL.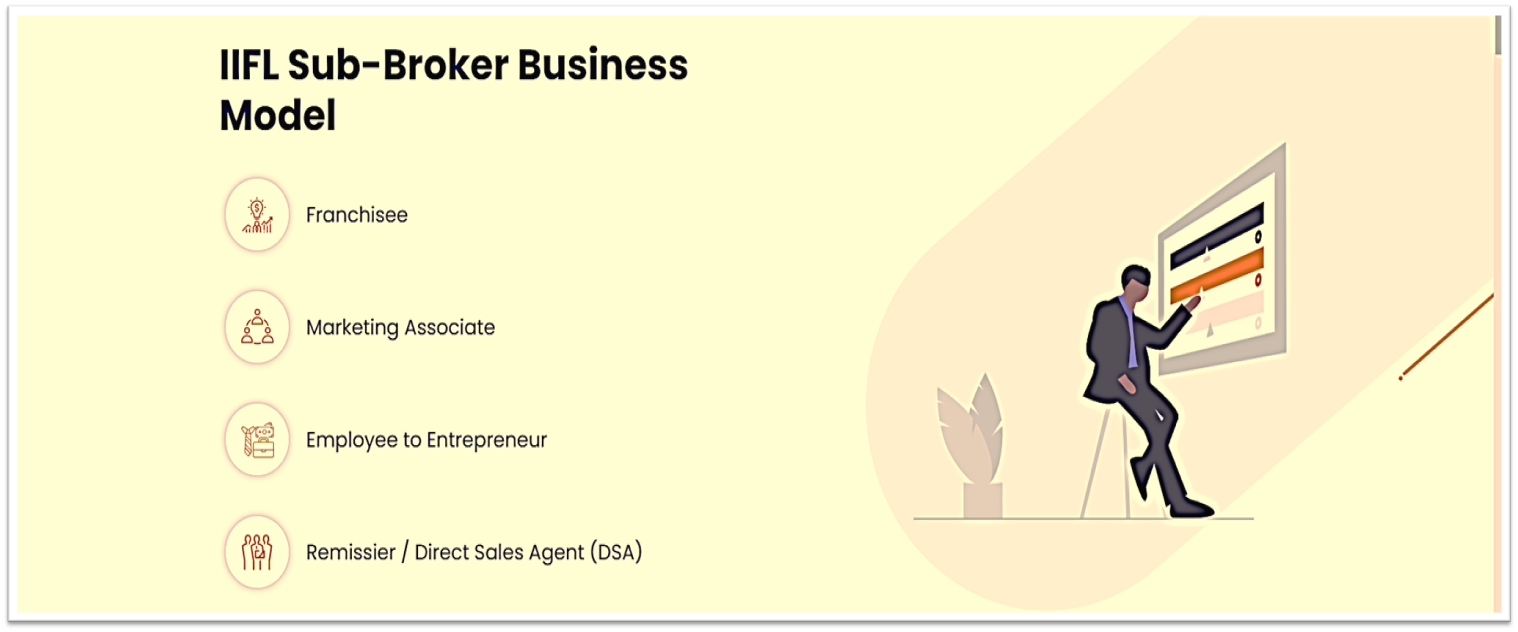 Franchise
Who can pick the franchise model?
Entrepreneurs who are enthusiastic and dedicated on creating a career in the equity markets. Someone who has the financial backing to get an office space, hire staff to handle a large clientele, and invest a start-up amount to build his or her business.
You must have a great track record in the market have access to a large clientele to become a franchisee partner. It is to your advantage if you have prior experience selling financial products as a sub-broker, broker, financial planner, Remissier, Insurance advisor, or working at a stockbroking firm. You must have an office and be willing to invest initially to become a franchise.
Returns of Franchise model: As a franchisee, you will have access to
Exclusive Business Development Programs and assistance with client acquisition.
Excellent revenue-sharing percentage.
Pioneering technology program
Exceptionally safe business transfer and customer moving process.
Strong procedures, supervision structure and threat management.
Commercial products that cater a diverse client base - Commodities, Currencies, Equities, Mutual Funds, IPOs, PMS, NCD, Bonds, Real Estate, AIF, Loans, Fixed Deposits, and Insurance products.
Continued returns.
Individual support – dealers and relationship managers handling your account.
Algorithm based trading for your clients.
Investor awareness seminars and training.
Support for custom branding, digital and offline marketing.
Marketing Associate
Who can pick the marketing associate option?
If you want to help your clients with their different needs. If you would like to benefit from the profit-share for a variety of fiscal products and services with no investment; then a marketing associate is for you.
You must be someone who knows about financial services or stockbroking; has experience working with customers and want to increase your business with a bouquet of well-known financial products to become a marketing associate.
Employee to Entrepreneur
Who can decide to be an entrepreneur?
For those who are working and would like to be the boss, then this franchise model is the best.
You must be an individual engaged in employment if possible, in the capital market business with a strong financial services background of at least 3 to 5 years to become an independent IIFL entrepreneur.
Remissier or DSA
Who can decide to become a Remissier?
If you are looking to work independently to refer IIFL to your clients for broking and other financial products, then becoming a Remissier is for you.
You must have a large base of consumers to become a DSA.
The advantages you get of you select Entrepreneur, Marketing Associate, or the DSA model: As an associate you get
Customer registration and engagement assistance.
No Capital Investment to become a Sub-broker.
Access to financial products like Equity, fixed deposits, mutual funds, bonds, commodities, PMS, AIF, NCD, real estate, loans, and insurance products.
Advanced trading system.
Regular income.
Back-office support for procedures, investigation, consultation, and products.
Help to develop your business and customer acquisition.
Access to special investor awareness programmes and training for your staff.
Personal branding, digital marketing, and offline support.
Access to an outstanding back-office and risk management department.
To use the brand goodwill to expand your business.
Partner Appropriateness and Qualifications
The certifications and eligibility criteria needed to become an IIFL Franchise
Above 18 years
Minimum 10th or 12th
Legal address proof
Latest photograph.
We have described the franchise options you can choose. Look at the steps mentioned below to see how you can become a franchisee.
Visit the IIFL Securities website and select the Partner tag in the header.
The partner page will open on your screen. Enter the details as needed. Click on the Submit tag.
Once registered, the IIFL team will call and guide you on the process further.
What is your Investment for a Franchise?
IIFL has two models you can invest.
Register for Free: This model gives you limited access and features. It does not include equities.
Paid Registration: This model gives you access to all the features and products. You must pay a refundable deposit of INR. 2,00,000 if you plan for a franchise in the metros and INR. 1,00,000 for sub-metros. You will get the full deposit amount back if you discontinue your franchise agreement with IIFL.
IIFL Franchise Locator
Look at the states you can set up a franchise before you decide to partner with India Infoline. IIFL franchises are available throughout India. Choose from one of the 36 states and Union territories to expand your circle of partners and connect with prized clients.
Why IIFL Franchise?
Partnering with IIFL presents several benefits, but if you are still thinking, then here are some reasons why you must.
IIFL is a leading stock broking company in India.
You can purchase and sell stock in varied trading and investment sectors, allowing you to broaden and better your services.
IIFL trains and offers administrative support to its partners.
As an associate, you get weekly and monthly reports, access to marketing strategies, market watch, and other suggestions.
You get bonuses and rewards for your excellent performance.
IIFL's trading systems are advanced, robust, and simple to use. These systems have won several awards for their ground-breaking technology.
Now that you understand IIFL's franchise models better, would you like to register with IIFL? If yes, then click here.