Compare stockbrokers in India
To find the best stock broker, you need to compare stockbrokers on various aspects such as,
Brokerage/commission charges for Demat account
Products and services offered
Trading platforms (Mobile and desktop trading)
Research and advisory services
Customer service
Offers
www.compareonlinebroker.com is committed to providing you all the essential data points to compare and find the best stock broker for your trading requirements.
---
Best Stock brokers in India 2021
A stockbroker or a brokerage firm is a financial institution that buys and sells shares/securities on behalf of its clients.
You will want to understand the differences in brokers and the type of investor you are before choosing a specific brokerage firm. Two types of brokers include discount brokers and full-service brokers.
Discount brokers will charge a lower fee than a full-service broker while providing a minimum trading facility at lower brokerage rates. This will generally allow for an investor to trust the broker to make fast, real time decisions. Full-service brokers provide multiple services apart from buying and selling shared. Many are bank subsidiaries providing a client with a savings account, Demat account, and online trading facility. Above all else, a full-service broker will provide well established personal advice regarding market trends.
---
Zerodha - Featured Indian Discount Broker . Here's why
PI -

Next generating trading platform

Free equity delivery or Rs 20 or .01% / .1% whichever is lower per executed order.
Same pricing for Equity, F&O, Currency, and Commodity across all exchanges
No upfront fee or turnover commitment
Over 40 lakh happy customers and 15% turnover of NSE trades.
1500+ dedicated support team to ensure the fastest turnaround time for your queries via email or phone
Open Trading Account Now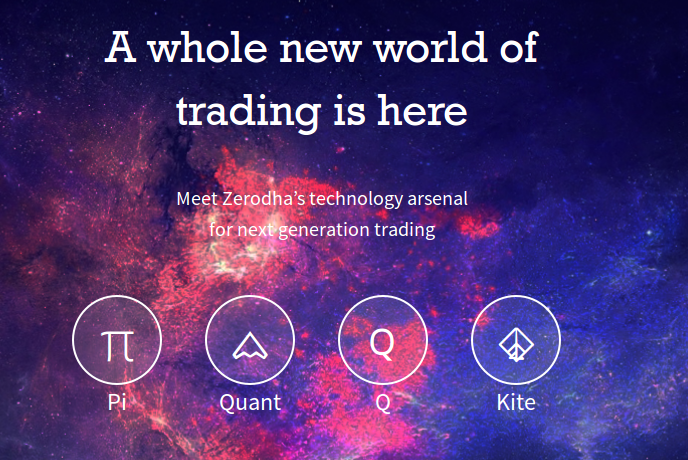 ---
Choosing the right stock broker
While choosing an Indian stock broker, you can think over the following points.
What kind of investor are you?
Before choosing an Indian stock broker you will need to ask yourself this question. If you consider yourself a day trader you will need to invest within a small time duration that can be as short as a few minutes and as long as a few hours. As a day trader you will want to seek out a broker who will offer a flat fee on transactions or offer lower fees. This is closely affiliated with discount brokers. Some well-established India based brokers who will offer you real-time, valuable market research platforms for a lower fee include Zerodha and RKSV Security.
The second type of investor will buy and hold stock for longer periods of time. In this case of an investor there is a strong need to obtain extremely accurate data in a short time period in order to make the best investment decision possible. You will need a broker with a solid execution strategy and one who understands long-term market values, trends and trading patterns. India based full service brokers include IDBI Palsa builder, Motilal Oswal Review, Indiabulls and Geojit BNP Paribas.
Reputation of a stock broker
Save yourself money by researching reputations of stock brokers. You can browse through SEBI and stock investment websites in order to find the right broker. Through reputation research you will be able to see any issues complaints that exist against a broker or browse their personal experience working with investors in the market. Choose a broker who is highly experienced and has an up to date knowledge of the inner workings and trends of the market.
Cost Efficiency
There are different kinds of fees associated with working with a broker. There are different kinds of fees associated with working with a broker. Almost all, except a few, also charge small account opening fees to open a trading account. Comparing stock broker commission rates is crucial to optimize the return on investment. There are account opening fees, transaction fees, maintenance fees, etc. Look for low transaction fees if you trade more often and low maintenance fees if you hold stock for a longer duration. Ideally, we strive to find the best brokerage firm with low brokerage fees or charges. At the same the cheapest stock broker isn't always the best stock broker for your specific stock trading needs.
Platform and market research facilities
Brokerages are increasing capacity to utilize advanced technology through software development and market research tools. Operating an account with a broker who has knowledge of these kinds of software and market research tools will provide incentives for you to make informed and timely decisions in choosing stocks.
Range of facilities offered
Whether you are looking to invest in IPO or Market Funds choose an investor who allows you to do so. Working together as a team is crucial in choosing a broker to make decisions with your finances.
---
Check out the list of top share brokers in India below and find the best stock broker in India
---
Major Indian Discount Brokers
Find the list of top
discount brokers in India
below and choose the best discount broker in India. Most of these are online discount brokers in India and thus provide trading facilities over the internet.
| Broker | Name | Opening | Brokerage | Offers |
| --- | --- | --- | --- | --- |
| | Zerodha | Rs 200 | Free delivery and Rs 20 for intraday and F&O trades | Open Account Now |
| | Angel Broking | Free | Free delivery and Rs. 20 or 0.25% (whichever is lower) per executed Order For intraday, F&O, Commodities & Currencies | Open Account Now |
| | Upstox | Starts from Rs. 249 | Free delivery and Rs 20 per trade for F&O | Open Account Now |
| | SAS Online | Rs 400 | Rs 9 per trade or 0.07% per trade. | Open Account Now |
| | TradeJini | Rs 300 | Rs 20 per trade. | Open Account Now |
| | Trade Smart Online | Rs 400 | Pay maximum of Rs 15 per order. | Open Account Now |
| | TradePlus Online | Rs 499 but it is redeamable | Unlimited commodity brokerage for Rs 99. | Open Account Now |
| | Ventura Securities | Rs 3500 but it is refundable | Rs 50 to Rs 18 per option Intraday from 1 paise to 3 paise. | Open Account Now |
---
Major Indian Full Service Brokers
| Broker | Name | Opening | Yearly Maintainence | Brokerage | Intraday |
| --- | --- | --- | --- | --- | --- |
| | Angel Broking | Rs 350 | Rs 300 | .50% | .06% |
| | AXIS Direct Brokerage | Rs 999 | 400 | .5% | .05% |
| | Bonanza | Rs 600 | Rs 275 | .50% | .05% |
| | Canmoney | Rs 200 | Rs 200 | .35% | .01% |
| | Geojit BNP Paribas | Rs 800 | Rs 400 | .30% | .03% |
| | HDFC Security | Rs 999 | Rs. 550 | Higher of 25 or .5% | Higher of 25 or .05% |
| | ICICI Direct | Rs 975 | Rs. 500(mail statement) Rs 450 (email) | .55% | .05% |
| | IDBI Paisa Builder | Rs 700 | Rs 350 | .50% | .08% |
| | Indiabulls | Rs 1350 | Rs 450 | .30% | .05% |
| | IIFL | Rs 750 | Rs 450 | .50% | .05% |
| | Kotak Securities | Rs 750 | Rs 50 | .59% | .06% |
| | Reliance Money | Rs 950 | Rs 210 | .30% | .035% |
| | Motilal Oswal | Rs 550 | Rs 900 | .5 - .9% | Buy - Nil Sell - .25% to .4% |
| | Religare | Rs 499 | Rs 300 (email) Rs 480 (paper statement) | .3% | .06% |
| | SBI | Rs 500 | Rs 386 | .75% | .05% |
| | Sharekhan | Rs 750 | Rs 441 | .5% | .1% |
| | SMC India | Rs 499 | Nil | .30% | .03% |
| | Ventura | Rs 1000 | Rs 400 | .45% | .05% |