Best trading platforms in India 2021
To succeed in any field, you must have proper tools to help you overcome the obstacles that may come your way. In the same way, to be a successful stock trader, you must have a trading platform that complements your trading style, and for that, one must carry out all the necessary research to reach a final verdict.
This article will make things easy for you and help you select a trading platform best fit for your style.
But before jumping into the best trading platforms, it is essential to know the different types of trading platforms. There are three significant trading interface types described below that a broker may offer when you sign up with them.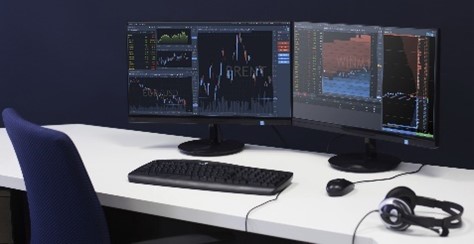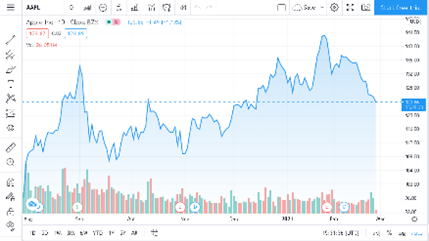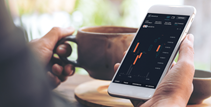 Desktop: Most commonly used and highly interactive interface that allows traders to perform all sorts of technical analysis on the charts. Desktop platforms will enable you to execute buy/sell orders directly after completing a specific analysis on the chart. All you need to do to get your desktop trading platform is to install your respective broker's software on your computer.
Web: Easy to access and setup as you don't have to install any software but simply copy and paste the URL on your browser provided by your stockbroker. Apart from relatively slow speed than a desktop platform, things are mostly the same in both trading platforms.
Mobile: This platform is suitable for keeping track of your trades and the stocks on your watchlist. Analysts do not recommend mobile stock trading as it is not a useful tool for carrying out in-depth technical analysis for different stocks. Most stockbrokers in India have a mobile application that can be downloaded from the app store or play store.
There are many trading platforms in India providing high-end services with new and improved features. The following table provides details regarding the top-ranked trading platforms in India.
| Broker | Trading Platform | Rank | Trading platform ratings |
| --- | --- | --- | --- |
| Zerodha | KITE | 1 | 9.78/10 |
| Upstox | Upstox Pro | 2 | 9.33/10 |
| Angel broking | Speed Pro | 3 | 9.01/10 |
| 5paisa.com | Trader Terminal | 4 | 8.95/10 |
| Fyers Securities | Fyers One | 5 | 8.89/10 |
| Sharekhan | Trade Tiger | 6 | 8.57/10 |
| ICICI direct | Trade Racer | 7 | 8.09/10 |
| Motilal Oswal | MOSL Trader | 8 | 7.78/10 |
| NSE | NSE Now | 9 | 6.69/10 |
To get a clear picture of what each platform is giving to its users, it is essential to look at its features, pros, and cons.
---
Zerodha Kite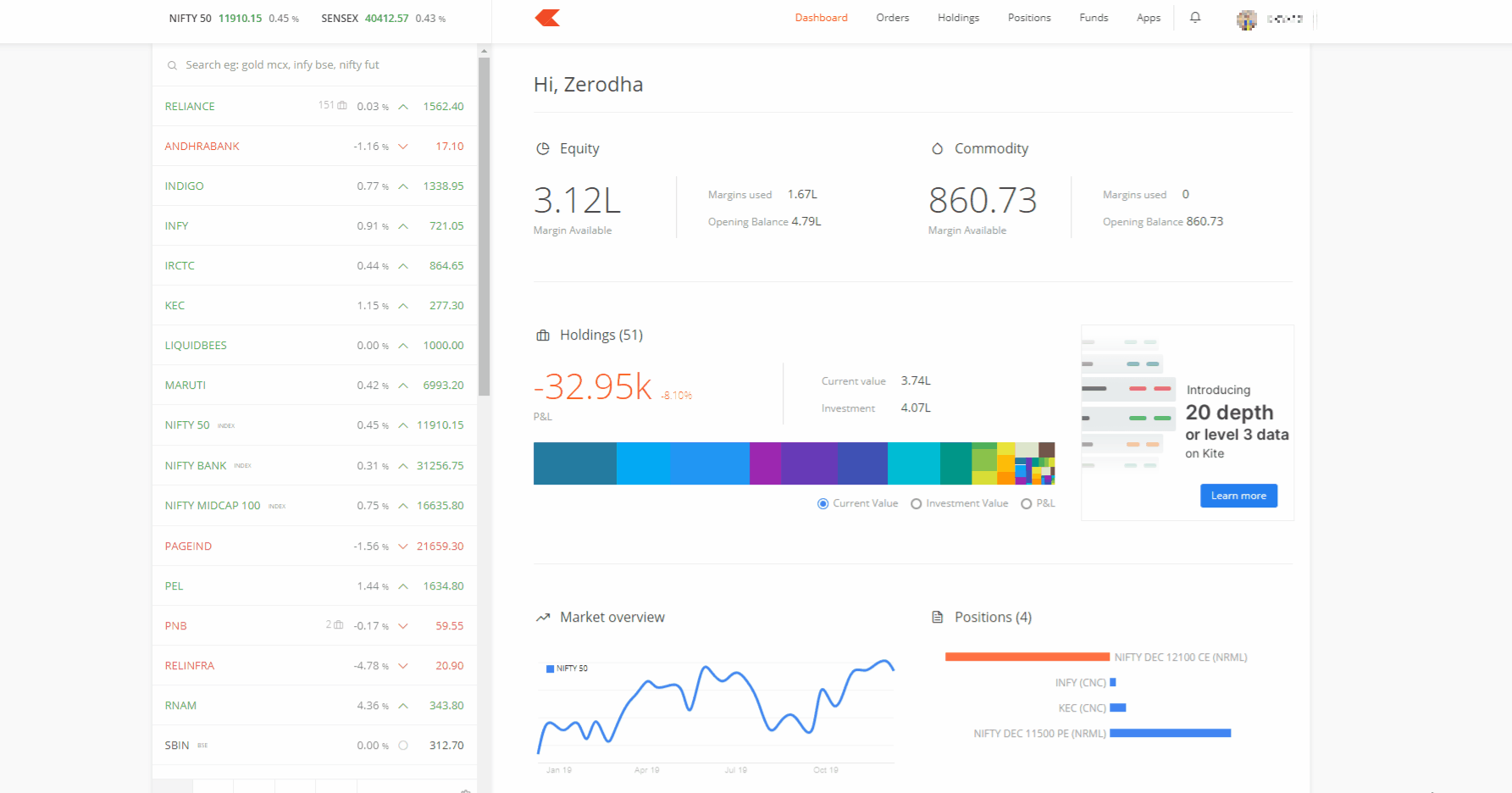 One of the best online discount brokers that maintains its reputation by providing a trading platform at par with their impeccable services. Kite is a trading platform designed and developed for mobile and web to make a sophisticated and straightforward user interface. Kite consumes a bandwidth of fewer than 0.5 kbps, allowing a smooth transition from different stocks in the watchlist.
It is essential to discuss some features of Kite before jumping to the pros and cons.
Offers a wide range of market watches.
Carries the option of one-click exit on multi positions.
Instant notifications on any activity within the app.
TradingView charts supported along with chartIQ on both web and mobile platforms.
Embedded console reports and widgets.
Offers Zerodha margin and brokerage calculator.
Different chart types, namely Helkin-Ashi, Kagi, Point and figure, linebreak, etc.
Dark Mode supported
Zerodha Kite Pros
Wide range of services offered such as stocks, forex, ETF funds, bonds, options, and futures.
No paperwork is required in account opening.
A light and smooth interface allows users to have a hassle-free trading experience.
A wide variety of indicators allows ease in performing further analysis.
Zerodha Kite Cons
Backtesting your strategies is not possible
Orders cannot be executed within the charts
As Zerodha tops them all, it is essential to consider the brokerage amount that can be saved through their services.
For an investor aiming for a long-term investment, he may plan to pay 0.5% in brokerage, an amount the usual brokers charge, e.g., ICICI Direct. However, the brokerage can be saved if you go for Zerodha, where the investments are free.
For day and swing traders, Zerodha charges Rs.20 per executed trade irrespective of the trade value. Whereas, on the other hand, many brokers do not offer this service.
All these indirect savings will add a compound effect on an investor's saving, making Zerodha a good option for anyone to start with.
---
Upstox Pro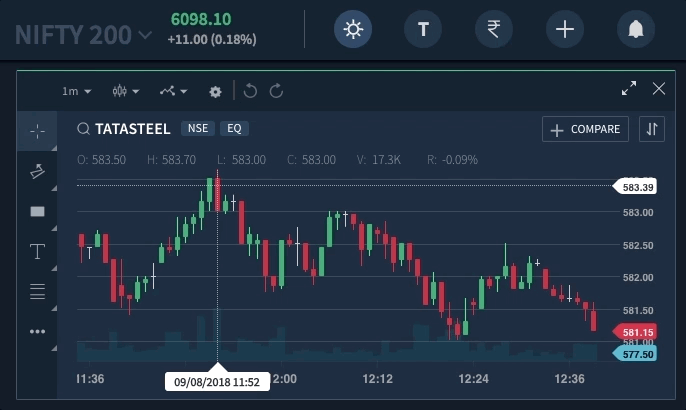 Upstox Pro, previously known as RKSV securities, a web, and mobile trading platform, stands in second place after Zerodha. Along with socket technology in this platform enabling faster and efficient access of market data in real-time, some of the key features are:
100+ technical indicators are allowing users to have a variety in their analysis.
Chart duration from 1 min to up to 1 month
Supports TFC (trade from charts) feature, which means you can execute a trade directly from the chart.
Allows you to set an unlimited number of price alerts on your stock watchlist and customize your watchlist.
Pros
Real-time market feeds.
Supports a trader's trading strategy with various indicators.
Highly customizable with interactive themes.
Multiple watchlists can be set at any given time.
Cons
Customers complain about bugs on the application making it difficult to use.
Mutual funds investment is not supported.
Call and trade facilities are not free of cost.
IPOs and FPOs investing are not supported.
---
Angel broking speed pro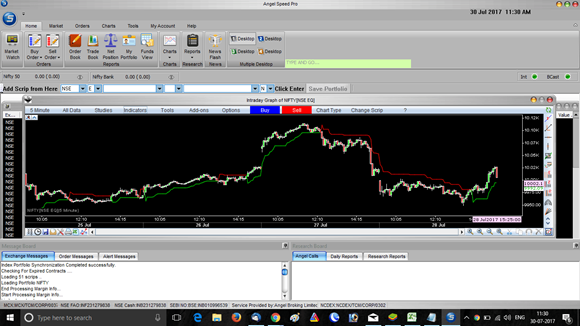 Unlike Zerodha kite and Upstox, this is a desktop trading platform that needs to be downloaded through a .exe file.
Speed pro's main aim was to provide a desktop application with all the features that will make it stand out. They provide a lifetime free Demat account with an initial deposit of Rs.2500 one-time only.
Some of the salient features are:
Carries the option of adding scripts from various segments, e.g., currency, commodity, F&O, to your market watch.
Information regarding different types of reports such as day, order, net position, portfolio, and fund reports.
The research bar consists of detailed reports and summaries published by Angel broking's research teams.
'Combined best five' feature allows traders to look at the top five best bids for buy and sell in both NSE and BSE.
Allows you to open a market watch in an excel sheet.
Online funds can be transferred to more than 40 banks.
Pros
The multi-desktop feature allows traders to view and analyze different market movements at the same time.
Ability to modify shortcut keys for trade execution.
Allows the traders to set price alerts for key price levels.
Bandwidth requirements are 40kbps, which can be attained easily.
Cons
MAC version is not supported.
The user interface is not as pleasing as other desktop trading platforms.
New and updated features relatively take time to get released.
---
5paisa trader terminal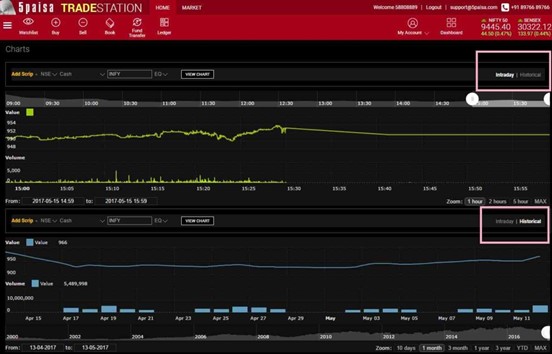 Like Angel broking speed pro, the 5 paisa trader terminal is a desktop platform that can be downloaded by the .exe file from their website.
5 paisa is a discount broker promoted by IIFL (India Infoline), and their trading platform is called 'Trading Terminal', providing a great user experience.
The significant advantage of a desktop platform like the 5 paisa trade terminal is that they are relatively faster than web platforms and are best suited for day and swing traders. Some of the critical features of this platform are as follows:
You can add a different watchlist with 100 scripts.
Various order types such as aftermarket and cover orders.
Has the option to buy specific mutual funds within the same trading application.
Has the option of carrying out technical check by finding out intraday charts for the last 30 days.
Historical charting for over 5 years to perform fundamental analysis.
Pros
Users can customize some of the features through shortcut keys, hence making it user-friendly.
The application can run smoothly even on an elementary configuration.
Works effortlessly and performs well even at a basic internet connection.
Technical and fundamental data allows traders to in-depth trading decisions.
Cons
As it is newly launched, it faces stability issues.
Third-party interrogation is not supported.
Downloading the software and setting it up can be a hassle for the users.
---
Fyers One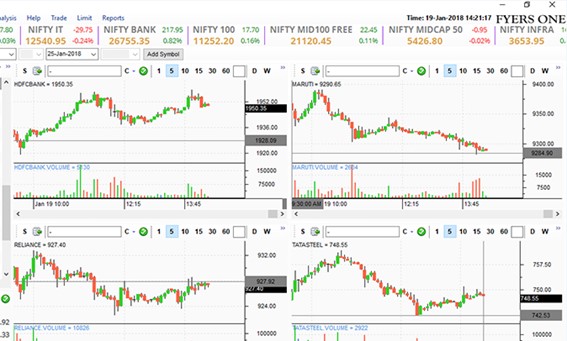 Fyers, a discount broker based out of Bengaluru, has given immense importance to its trading platforms from the beginning. They have invested a lot to bring the most optimized trading platforms for their users.
Fyers one, a desktop trading platform designed for technical and fundamental traders. It offers a wide range of powerful functions such as advanced charting, technical screeners, market 360 degrees to provide speed and accuracy to the trading experience.
There are some features that many users find helpful such as the screener feature in which you can scan and preset excellent trading opportunities. Apart from this, 'Fyers One' made fundamental analysis easier for the trader by providing PE ratio, market cap, and returns data in their software.
Some of the prominent features are:
Advanced charting with over 60 indicators.
Built-in stock screeners to identify profitable opportunities.
Advanced EOD reports.
Portfolio tracker and simulation.
Pros
70+ indicators, 300+ interactive icon, and dozens of drawing tools making stock trading easy for the user.
Opportunity for investors to invest in thematic investments with a single click.
Simulated portfolio to try out your strategies.
Up-to-date features such as heatmap, index meter, and stock screener.
Cons
Bracket orders and cover orders are not supported on this platform.
MAC version not supported.
Requires advanced system configuration to avoid lag.
---
Sharekhan trade tiger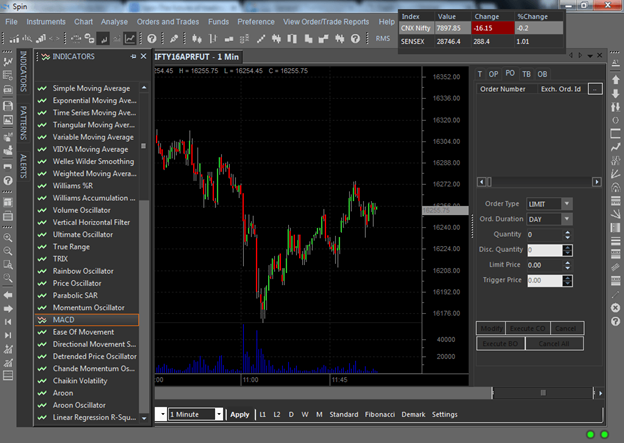 A powerful desktop trading platform, which can be downloaded with a .exe file from sharekhan website is most commonly used for its chart functionality and tools. This feature allows users to perform several different types of analysis with ease.
Some of the features that make sharekhan an excellent trading platform are as follows:
Fast and efficient, giving real-time quotes without delay even at the microsecond level.
Advanced tools such as heatmap, live market scanner, chartbook.
It gives an incentive to trade at multiple exchanges within BSE, NSE and even support currency trading.
Built-in functionality and access to reports, tips, and recommendations.
Different calculators such as brokerage, span, and premium.
Single-click order execution.
Pros
Information regarding 30 different strategies makes it easier for the trader to try and test different ones.
High speed and efficient performance
Quick update frequency cycle.
Video tutorial for new users to get started with the software.
Cons
Customers complain about facing difficulty in transferring funds.
Relatively bulky as you need a high-end system if other applications are to be run along with the trader terminal.
---
ICICI direct trade racer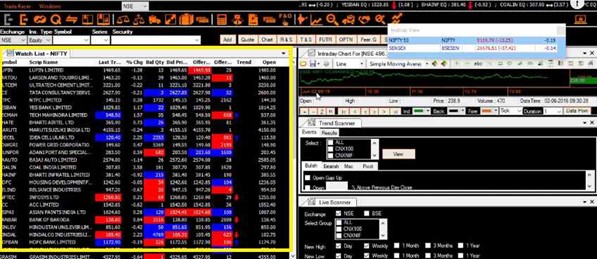 India's biggest stockbroker backs this platform, ICICI direct, and they were the pioneers in reforming the online stock trading platform in India. ICICI direct trade racer is a desktop-based platform that can be downloaded from their site.
Some of the key features are:
Live streaming quotes and research calls
Multiple watchlists
'iClick2Gain' module asses to their fundamental and technical calls.
The trend scanner feature allows traders to find trending scripts as per the condition set.
Pros
It is a highly customizable interface with three views: Analytical View, derivative view, and equity view.
Valuable information for traders, such as gross delivery data, advance-decline ratio, bulk, and block deals, are useful in judging the market pattern and behavior.
Traders can add various widgets as per their requirements.
Frequently used widgets can be opened with a single click.
Cons
Rs.75 per month is charged after subscription. However, this fee is waived off if you generate more than Rs.750 per month in brokerage.
High bandwidth requirements, which leads to more time to load.
Not suitable for people with a basic internet connection.
---
Motilal Oswal trading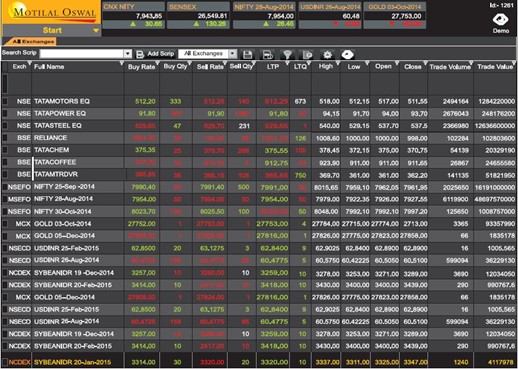 A leading stockbroker in India with more than 10 lac customers with a desktop trading platform provides loads of advanced and attractive features. Some prominent features are:
Up to 40 technical indicators in a single script.
Fast trade execution with a 1-second refresh rate.
Highly optimized risk to return chart which allows you to manage your trades accordingly.
Auto buy/sell signal based on trend spotting.
Access to more than 30,000 research reports for all asset classes.
Pros
Can set alerts for individual scripts or group of scripts for a particular criteria.
Watchlist for different sectors, including equity, derivatives, commodities, and currencies.
Option of checking the integrated portfolio health and review tool which helps you in comparing your stock picks.
Cons
A high-end computer system needed to use all the features at maximum capacity and avoid any lags.
---
NSE Now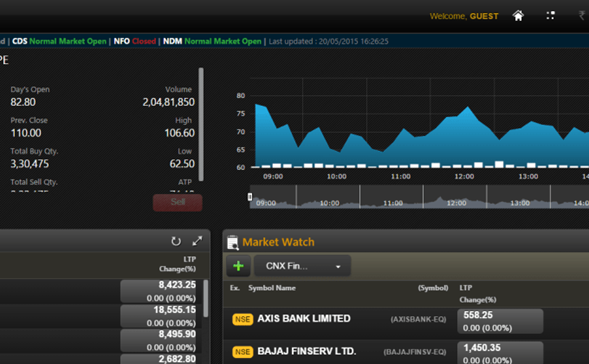 As the name suggests, NSE NOW is a platform developed by the NSE stock exchange itself, and it is a web platform that can be accessed directly through your web browsers such as google chrome, firefox, opera, etc. The platform adjusts accordingly with your gadget's screen.
As the platform is backed by NSE exchange, the updates in price and critical information flow are relatively quicker than other stockbrokers.
Some of their prominent features are as follows:
80+ technical indicators along with 15+ charts.
Allows you to create a market watch and observe the market behavior.
Allows you to create alerts through web notifications.
Daily tips offered by your broker are displayed on NOW's interface.
High speed in trade execution.
Pros
Due to 2FA (two factor authentication) login process ir provides more security.
Easy to use by both beginners and experts in day/swing trading.
High speed compared to other platforms.
Cons
It only supports NSE exchange which means it does not allows you to trade commodities, currencies, and other exchanges.
System configuration requirement is relatively high.
Some brokers may charge for using NOW's interface.
Conclusion
The old-school approach of gathering and collecting data from your stockbrokers at a specific price is slowly vanishing as there is a massive demand for online stockbroking, which provides services at a highly competitive rate with state-of-the-art trading platforms.
Now that you have all the details regarding India's top trading platforms, it's time to go for the one which you believe is best suited for your trading style and strategy.
One of the essential features that every trading platform must have is a solid set of tools that allows day and swing traders to perform their technical analysis on charts. Moreover, trading is all about executing the trade at the right time, so you need to look for a smooth and fast platform with little to no lags.
Lastly, I prefer a desktop trading platform because it is relatively speedy compared to web platforms and provides quick real-time market updates.
The pie chart below shows the percentage of users on the top four trading platforms. This piece of information will be helpful to you in judging the credibility of trading platforms.