Best mobile trading apps in India
As the stock market is advancing and booming, an investor aims for fast and efficient information sources. Mobile trading applications provide you the exact speed and efficiency while trading. This trading platform keeps you up-to-date with the latest news and price updates without much hassle. The mobile trading platform allows you to get instant updates wherever you are and whenever you want.
However, as the technology is advancing, the key for stockbrokers to attract more clients is by providing state-of-the-art mobile trading platforms, which have a user-friendly interface and have all the necessary features that an investor needs to carry out their trades.
The ten best mobile trading applications in this article will ease the process for selecting the mobile trading application that best suits you and your trading needs with all the main features mentioned along with their pros, cons, and unique selling point.
---
Zerodha Kite
Apart from being the best discount broker in India, Zerodha provides a fast and efficient mobile trading platform with a unique interface placing it on the top of the list.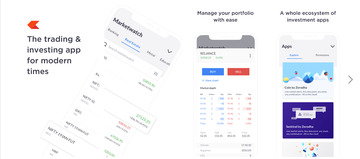 Zerodha Kite
Installs
Ratings
Size
5,000,000+
4.1

173,878 reviews

26M
3.3

920 reviews

71.9 MB
Moreover, Zerodha charges zero brokerage on investments, which means if you buy and hold the position for more than a day, no brokerage is charged. Low fees combined with a highly interactive mobile trading interface make it a good option for traders.
Some of the common features are:
Live streaming data.
Multiple market watch and live market depths.
Free historical chart data worth years.
Trades in equity, futures, and options, commodities, currency.
Able to execute various order types such as regular orders, AMO, bracket orders, cover orders
However, it is essential to discuss the pros and cons of Zerodha, which will help you in making the final decision.
Pros
User-friendly for both beginners and experienced traders.
Advance charts with 100+ indicators make it easier to perform technical analysis.
Capable of trading across multiple exchanges, namely NSE, BSE, MCX.
Cons
Minor bugs are reported by users.
Lack of trade totals information and margin details.
A rating of below four on google play store.
The unique selling point of Zerodha Kite is the smooth and sophisticated interface allowing users to have a great trading experience.
---
5Paisa
5Paisa provides a great and famous mobile trading platform with more than 5 million installs in the app store and play store combined. 5paisa offers online stock trading at the cheapest rate of Rs.20 for all your orders across any trading segment, and this incentive attracts more traders.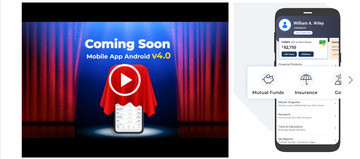 5Paisa
Installs
Ratings
Size
5,000,000+
4.2

156,420 reviews

26M
3.9

8.8K reviews

185.7 MB
Some of the common features of 5paisa mobile trading app are:
Trade-in equity, derivatives, commodity, and currency segments.
Get live updates on stock prices and quotes from NSE, BSE, MCX.
Wide variety of charts and drawing functionality for advanced and technical analysis.
Create a multi-asset watchlist synced across devices.
Some of the pros and cons are as follows:
Pros:
High-speed order execution with a single click.
Allows you to invest in direct mutual funds, digital gold, insurance, and take personal loans.
Allows you to have high exposure for your intraday and delivery trading.
Cons:
The app size is relatively large compared to other platforms.
High-speed internet connection is required to load charts.
No 15 min timeframe candles.
The unique selling point for 5paisa is the 'Robo Investment Advisor,' which allows traders to build a customized portfolio suited to their needs and risk percentage.
---
Fyers
Fyers was introduced in the market relatively late compared to other mobile trading platforms. However, in less time, they managed to capture a good amount of consumers through their interactive application along with attractive brokerage offers.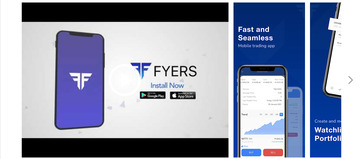 Fyers
Installs
Ratings
Size
100,000+
4.4

3,315 reviews

17M
4.1

321 reviews

89.4 MB
Some of the common features of fyers mobile trading app are:
Real-time market data
20+ years of historical EOD charts
9+ monthly historical intraday charts
Advanced technical indicators.
Multiple watchlists
Options calculator
Some of the prominent pros and cons of the fyers app are:
Pros
The application has the option of trading in equity, futures, and options.
Quick transfer of money.
Allows bulk and block deals
Cons
Customers report a problem logging in to the mobile version.
Price alert feature is not supported.
Less frequent app updates by the developers.
The unique selling point of the Fyers app is the features they provide in their charts, such as stock screeners and heat maps.
---
Upstox Pro
Upstox provides one of the top-performing mobile trading applications with various features that allow a user to perform several analyses. With low brokerage and a clean and intuitive user interface, upstox pro provides an attractive service to their clients.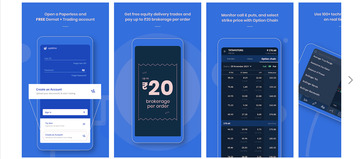 Upstox Pro
Installs
Ratings
Size
5,000,000+
4

1,74,295 reviews

14M
2.9

5K reviews

65 MB
Some of the common features are:
Trading on NSE F&O, NSE cash, BSE cash, NSE currency, BSE currency, and MCX.
Multiple chart types, including candlesticks, trading indicators, and drawing tools.
Zero brokerage on equity deliveries and investments.
Multiple order types, namely cover orders, bracket orders, limit order, market, and stop-loss orders.
Some of the pros and cons of Upstox are:
Pros
Allows you to view margin limits and trading accounts.
You get access to 10 years of historical market data.
Can trade directly from charts.
Cons
It is only compatible with IOS 11 and above.
Users report that navigation from one menu to another is difficult.
The unique selling point of Upstox is that they allow you to open a Demat account with your Aadhaar and PAN card through E-KYC Aadhaar technology.
---
Groww
Groww is a Demat and stock trading app that allows investors to open a free Demat account and trade BSE, NSE listed stocks in the stock market. Apart from this, groww is registered with AMFI and SEBI and all mutual fund companies such as SBI Mutual fund, Reliance Mutual fund, ICICI Prudential mutual fund.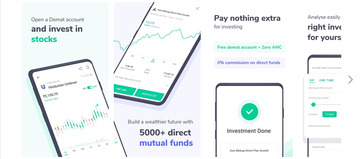 Groww
Installs
Ratings
Size
10M+
4.4

232,825 reviews

Varies with device
4.5

6.5K reviews

64.1 MB
Some of the common features of grow mobile trading app are:
Allows you to invest in Nifty 50 (NSE) and Sensex (BSE) with live share price movements.
Switch to regular funds to direct funds for free.
Mutual funds SIP calculator allows an investor to calculate returns.
100% paperless online free Demat account opening
The pros and cons of groww are as follows:
Pros
No DP charges on buy and low brokerage on executed orders.
Gives you a list of top gainers, top losers, and top by market capitalization.
Gives the traders complete stock analysis along with company financials such as P&L statements and balance sheet.
Cons
Customer service is not up to the mark.
Customers reported problems regarding new updates and their app crashes.
The application lags while loading charts.
The unique selling point of groww mobile trading app is that they allow an investor to learn to invest in mutual funds with as low as Rs.500
---
Sharekhan
Sharekhan provides a highly interactive application that offers various features giving an investor a wide variety of trading options. However, the brokerage is 0.10% for delivery, which is relatively high compared to its competitors but sharekhan covers this drawback by providing state-of-the-art features in their app.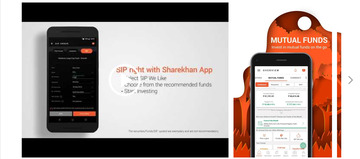 Sharekhan
Installs
Ratings
Size
1M+
3.5

48,137 reviews

23M
2.8

2.2K reviews

62.7 MB
Some of the common features are:
Faster refresh rate of stocks, prices, and graphs.
Enhanced live charts, namely Renko, line chart, candlestick, bar, and area chart.
A dashboard which provides a comprehensive view of what's happening in the market
In-depth market statistics of stocks, futures, and options.
Allows you to place different order types such as normal order, sell against the margin, big trade, big trade plus, bracket orders.
Allows you to trade smartly with new trading ideas on pattern finder every day.
The pros and cons are as follows:
Pros
Access to all financial data, portfolio, watchlists, mutual funds, IPO's, etc.
Allows you to create, pause, and modify your SIPs anytime.
Plans investments for your financial goals with NEO, which is their goal-based investment tool.
Cons
Aftermarket order cannot be placed within the app.
The overall price structure of sharekhan is high.
The application does not have the option of viewing the EQ ledger balance.
The unique selling point of this application is that they provide education and training for new investors through their courses within the app.
---
Angel broking
Angel Broking, being in the stock industry for more than 30 years, Angel broking is one of the oldest competitors of stockbrokers. They have constantly upgraded to new features and services such as insurance and mutual funds throughout the years.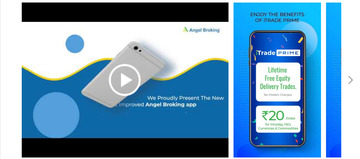 Angel broking
Installs
Ratings
Size
5,000,000+
3.8

156,201 reviews

42M
3.7

10.2K reviews

144.7 MB
Some of the features of the Angel broking mobile trading app are:
Intraday charts with indicators
Instant news updates
Allows you to invest in mutual funds
Allows you to track your basic portfolio for equity and mutual funds.
View advisory calls, detailed research reports.
The pros and cons of this app are as follows:
Pros
Around 40 technical chart indicators and overlays, which help an investor to perform several different analyses.
Online payments across 40+ banks.
Allows you to create customized watchlists.
Cons
The user-interface is not attractive as compared to other applications.
The IOS app size is 77.8MB, which is relatively large.
The unique selling point of the Angel broking app is the 'One Tap Access.' This allows you to access portfolios and reports using a one-time password, and you will get access to all non-trading information in the app.
---
ICICI Direct
ICICI direct is powered by ICICI securities limited, and they provide features that make the process of trading easier for investors. This application allows you to view the latest quotes, track your portfolio movement along with the market movement.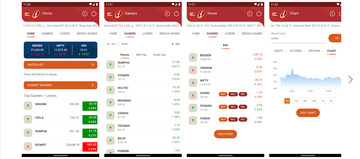 ICICI Direct
Installs
Ratings
Size
1,000,000+
2.7

24,334 reviews

Varies with device
1.9

776 reviews

16 MB
Some of the prominent features include:
Trade in equity
Trade-in futures and options
Allows you to track instant portfolio movements
Helps you to track market movements making it easier for the investor to stay updated.
The pros and cons of ICICI Direct are:
Pros
Allows you to get live research calls.
Less storage needed of a maximum of 8.6 MB
Cons
Play store ratings of only 2.7
The application faces glitches.
This application's unique selling point is that it is a 3-in-1 trading platform that links your banking, trading, and Demat account.
---
IIFL
India Infoline is in the brokerage industry since 1995 and provides a full range of services, unlike discount brokers. As they are full-service brokers, they offer much in-depth research and recommendations along with personalized service to each of their clients.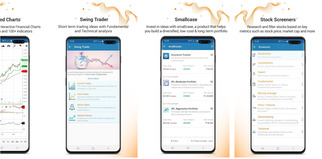 IIFL
Installs
Ratings
Size
5,000,000+
3.7

47,522 reviews

21M
3.4

1.2K reviews

195.9 MB
Some of the common features of their trading application are:
Stock tips are backed by research and stock analysis.
Simplified share market app that puts all the details about any script in an interactive ecosystem.
Allows you to trade in a wide range of markets, including forex.
Unique widget-based stock watch feature that allows you to keep your favorite stocks on the home screen.
Allows you to add price alerts
The pros and cons of this application are:
Pros
Quick updates regarding the markets.
News related to BSE, NSE, NCDEX, and MCX is instantly updated.
App contains one-tap support, which means that the customer service is readily available.
Cons
The application logs out after 15 minutes of inactivity
The service charges are high
Does not support the buying of NCDs/Bonds within the application.
The unique selling point of this application is the 'Intelligent Dual Stock Watch.' This allows you to handle multiple security segments and keep a parallel watch.
---
Motilal Oswal
They are also one of the oldest players in the brokerage industry and were established in 1987. This expertise helps them to gain customer's credibility, and they maintain this credibility with a wide range of services such as equity, mutual funds, life insurance, IPO's, bonds, currency, and portfolio management services.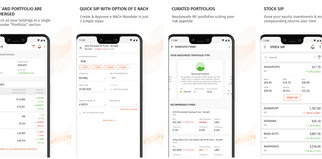 Motilal Oswal
Installs
Ratings
Size
1,000,000+
3.7

39,570 reviews

12M
3.8

408 reviews

65.4 MB
Apart from these services, their mobile trading application also provides attractive features such as:
Allows you to invest in US equities and ETFs.
Allows you to create a customized watchlist of your favorite stocks.
Instant updates and news alerts.
Option to invest in equity stocks monthly basis through the app.
Includes a series of educational videos in the application.
Some of the pros and cons of Motilal Oswal trading application are:
Pros
Market screeners help you spot the trending stocks.
Allows you to execute multiple orders through a single click.
Has features like trade guide signals, option writer, option decoder.
Cons
The price package is high.
Charting is not up to the mark.
The interface is not updated frequently by the developers.
The unique selling point of this trading application is that it provides an 'Intelligent Advisory portfolio,' which is a pre-packaged equity portfolio.